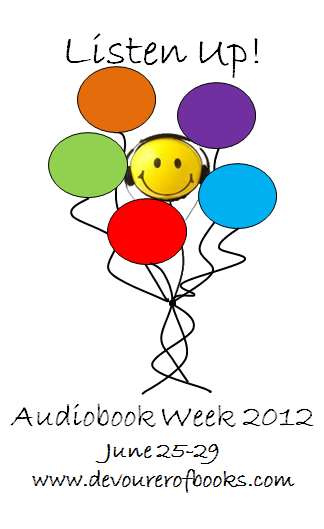 Audiobook Week ~ Day 1: 2011-2012 Your Audiobook Year
Are you new to audiobooks in the last year? Have you been listening to them forever but discovered something new this year? Favorite titles? New times/places to listen? This is your chance to introduce yourself and your general listening experience.
Welcome to Audiobook Week 2012 hosted by
Devourer of Books
. Anyone that has followed my blog knows how much I love audiobooks so I couldn't resist participating in a full week of audiobook reviews and discussion. This is my first year of participation in Audiobook Week, but I have been listening to audiobooks for years! Since June 2011 I've listened to 52 audiobooks, 5 of which were 30+ hours each. That adds up to A LOT of listening time! I live 30 minutes from town so each and every car trip I'm listening. It's my favorite time to listen because what would otherwise be a long boring trip just to get groceries seems to take no time at all. I also listen while I'm cleaning house, when I need a bit of my own quite time (I do have 3 kids after all) and I love to listen when I get in bed at night. I can't see in the dark to read a paperback book, the light from my Kindle bothers my husband while he's trying to sleep, but I can pop my earbuds in and listen for as long as I want! I have been known to have to go back and find the last place I remember because I fell asleep listening, but I can promise you my dreams are always interesting! I wouldn't recommend Stephen King or Dean Koontz while night listening. You never know what your dreams will be!
Do you listen to audiobooks? I'd love to hear all about your favorite place to listen. Comment below, and if you want to participate in Audiobook Week head on over to
Devourer of Books
and join us!