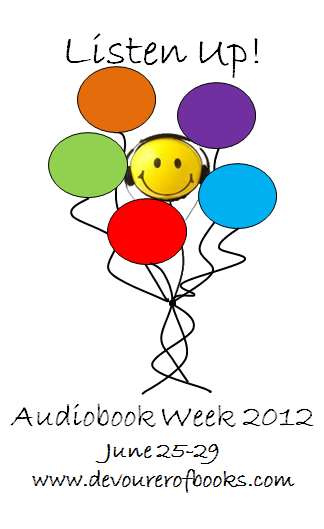 Current/Most Recent Audiobook:
Right now I am listening to
Once Burned
by Jeaniene Frost, which is narrated by Tavia Gilbert.
Impressions:
This is the first book in a spin-off of the
Night Huntress
series, which I loved. So far Once Burned is living up to my expectations.
Current/Most Recent Favorite Audiobook:
My all time favorite is the Harry Potter series, both to read and to listen to. Jim Dale is the narrator of the audiobooks, and he is unbelievable. I had already read this series, but decided that I wanted to experience them in audio, and I am so glad that I did. Dale brings a magic quality to these books that is unparalleled.
Here are a few fun facts from blurtit.com:
"Jim Dale is the narrator of the American edition (Stephen Fry narrates the UK edition) of the Harry Potter audiobooks. He narrated all seven books, as well as the DVDs. Dale has won many awards for his narration of the Harry Potter series, including a Grammy Award (in 2000), four Grammy nominations,seven Audie Awards, two Benjamin Franklin Awards and seven Audio File Earphone Awards. Jim Dale won a Guinness World Record for creating 134 different character voices for Harry Potter and the Order of the Phoenix. He also won a Guinness World Record for having the first six entries in the 'Top Ten Audio Books of America' in 2005."
Favorite Narrator You've Discovered Recently:
I recently listened to the
Tiger Saga by Colleen Houck,
which is narrated by Annika Boras. This series is unique to anything else I've listened to in that while the main character is American, most of the novels take place in India. Not only does Boras do an amazing job with male and female characters she also handles the accents effortlessly.
Other narrators I love: Holter Graham, Amanda Ronconi, Emily Shaffer, Lorelei King, Tavia Gilbert, Scott Brick, Gerard Doyle & Jim Dale
One Title From Your TBL (to be listened) Stack or Audio Wishlist:
I've had
Room
on my Wish List for quite a while now, but I'm hesitating because of the fact that a large portion of the book is told from a child's point of view. I'm thinking this may be better read. Thoughts?
I should also point out that after reading other participants of this meme I have now added
Ready Player One
to my Wish List! Wil Wheaton...yes please!
Your Audio Dream Team (what book or author would you LOVE to see paired with a certain narrator, can already exist or not):
I think I have to fall back to Jim Dale with this one. With a voicee made for strange creatures and magical beings he makes me think "magic and fantasy", so any books with a magical quality would be amazing narrated by him. Take his previous work into account and I suppose I'm not the only one that thinks this. He's also narrated Peter Pan, Alice's Adventures in Wonderland, Liesl & Po, and The Night Circus...among others.